Dear Bitdeer user,
Happy Mid-Autumn Festival! We are launching a series of promotions as a way of saying thank you to our users.
Time:19/9/2021 00:00 — 21/9/2021 24:00(UTC+8)
Details:
Gift 1: All users who register/login to Bitdeer will get a $5 electricity fee coupon.
Gift 2: Share your Bitdeer invitation link [Bitdeer APP --> Invitation Reward --> Invitation Link/Poster Invitation] on any social platform and upload the screenshot to [Bitdeer APP --> Account--> Support]. Once customer support has approved your submission, you will be credited a $50 cloud hashrate coupon.To upload a screenshot, you can refer to the following steps: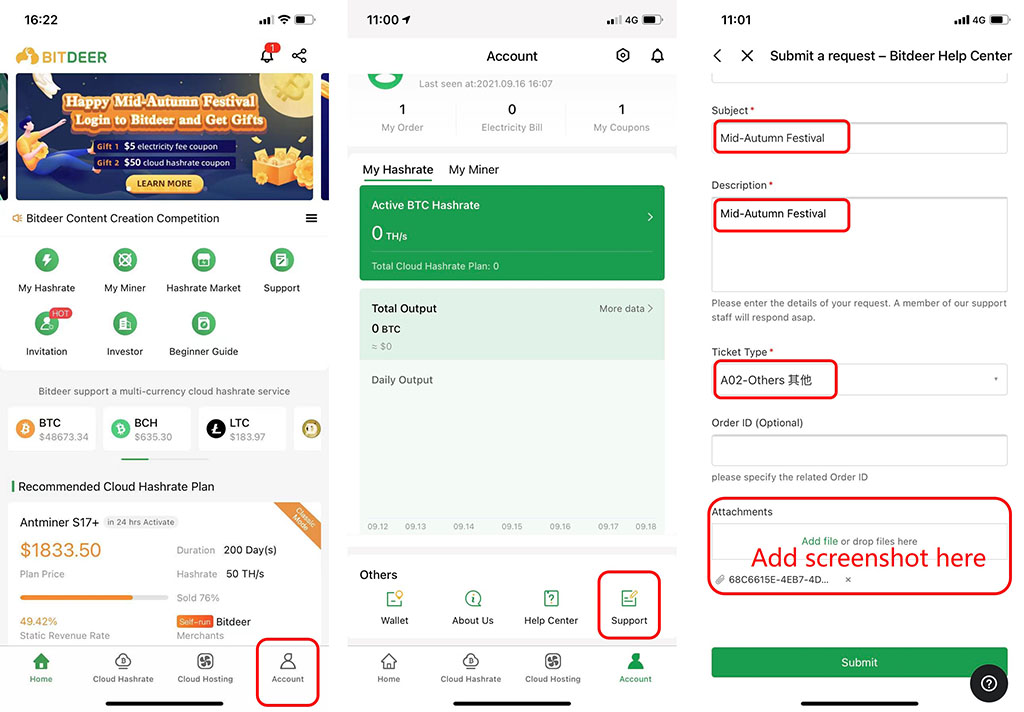 Terms:
A) Hashrate Fee Coupons can only be used for offsetting fees when the parent account purchases Cloud Hashrate Plans. It can't be withdrawn.
B) The $5 Electricity Fee Coupon will be automatically issued when you log in to your Bitdeer account. You will find it in [My Coupons].
C) Hashrate Fee Coupons and rebates will be credited to eligible accounts within 5 working days of the completion of the event.
D) Bitdeer reserves the right of final interpretation of this event.
Thanks for your support!
Bitdeer Team
18 Sep 2021