Dear content creators,
Bitdeer, the world's leading digital asset mining and cloud service provider, is inviting you to join our Content Creation Competition (CCC). Each valid entry is entitled to $50 worth of Bitcoin while 1st place will receive $1,500.
Event details :
1.Event period starts now and ends on 31 August 2021 12:00 PM (UTC+8)
2.Who can participate in the competition?
1)Anyone who is good at content creation.
2)Anyone who has a good understanding of Bitdeer products.
3)Anyone who wants to win lucrative rewards
3.Benefits:

*Some of the highest quality content will be shared on Bitdeer social media channels
*Outstanding content creators will be invited to our referral program where they can enjoy lucrative commission rates on their referrals.
4.How to get involved?
1)Create an original article/video/image that is relevant to the Bitdeer service.
3)Qualified entrants will be contacted by the Bitdeer team for further instructions
5.Rules:
1)The submitted content has to be original and created by the participant;
2)The content must be relevant to Bitdeer services and products (e.g. Cloud Hashrate Plans, Cloud Hosting Plans, Hashrate Marketplace and Institutional Service)
3)Articles must be at least 500 words in length and videos must be at least 30 seconds long.
4)Bitdeer will evaluate all submitted content within 7 working days after the completion of the event. Bitdeer will then select the Best Quality, Most Popular and Most Creative winners based on the criteria below: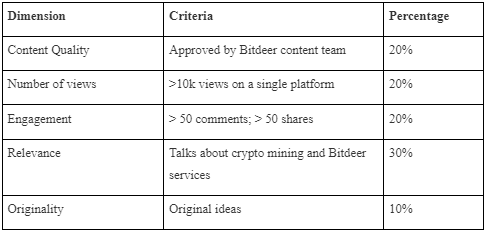 5)To receive rewards, qualified entries have to be shared on social media channels (including but not limited to Twitter, YouTube, Facebook, Tiktok, Medium, etc.) and must use the hashtag #BitdeerMining
6)By participating in this competition, authorship remains with the participant but the participant acknowledges the transfer of copyright of the submitted works to Bitdeer. All participants grant Bitdeer the ability to, including but not limited to, copy, edit, display and publish submissions.
7)Bitdeer reserves the sole right of interpretation of this event.
We look forward to seeing your submissions!
Follow us on Twitter @BitDeerOfficial for the latest updates and promotions.
Bitdeer team
2021/08/10