Dear Bitdeer users,
To celebrate the Bitcoin Cash's 4th anniversary, we are launching a series of promotions as a way of saying thank you to the community.
Event Duration: 2021/07/30 12:00 PM - 2021/08/10 12:00 PM (GMT+8)
Details:
1.New users who register a Bitdeer account during the event period will receive a Hashrate Fee coupon (valued US$10-US$100);
2.During the event, top 10 users with the most accumulated BCH Cloud Hashrate fees will receive BCH rebates.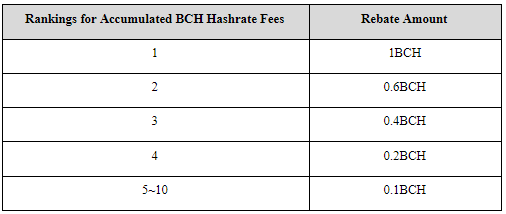 3.Follow our official twitter account @BitDeerOfficial and win one of the FREE Cloud Hashrate plans.
Terms:
A.Hashrate Fee Coupons can only be used for offsetting fees when the parent account purchases Cloud Hashrate Plans, and it can't be withdrawn;
B.The rebate is only applicable to BCH Cloud Hashrate Plans (excluding electricity fees) ;
C.The ranking is based on accumulated BCH Hashrate fees made during the event period;
E.Hashrate Fee Coupons and rebates will be credited to relevant accounts within 10 working days upon completion of the event;
F.Bitdeer reserves the right of final interpretation for this promotion campaign.
Thanks for your support!
Bitdeer Team
30 July 2021