Dear Bitdeer users,
Trick or treat, Halloween is coming! Bitdeer is giving away LTC Coins and $200 Cloud Hashrate coupons!
▶Event time: 30/10/2021 00:00 - 1/11/2021 24:00 (UTC+8)
▶Benefit 1:
Follow Bitdeer on Twitter @BitdeerOfficial and @VIP_MinerPlus during Halloween and retweet according to the rules, you will receive a random reward of LTC Coins!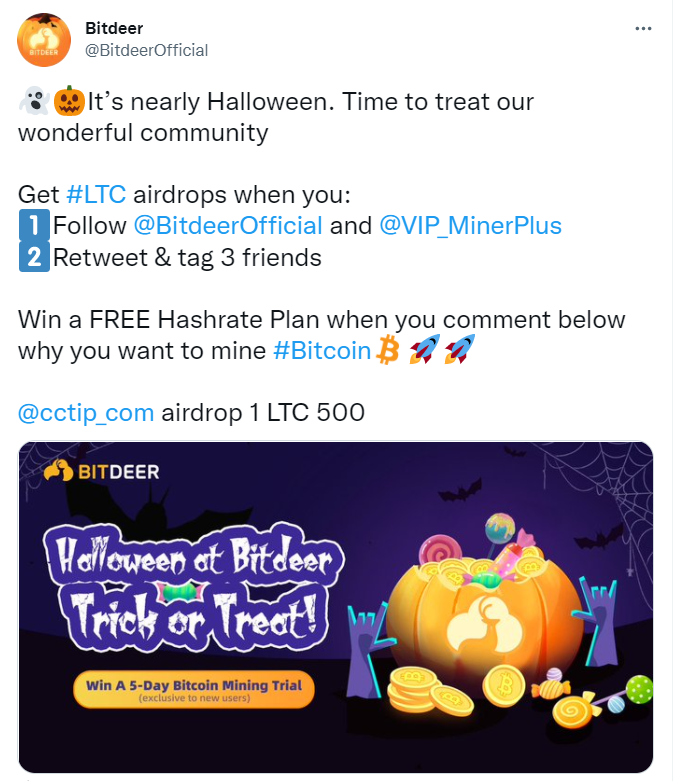 ▶Benefit 2:
During the event period, you'll also get Cloud Hashrate coupons when you upgrade your KYC level! Like this ↓↓↓
▪KYC0→KYC1 $60 coupon
▪KYC1→KYC2 $100 coupon
▪KYC2→KYC3 $200 coupon
If you go directly from KYC0 to KYC2, you will receive both $60 and $100 coupons!
▶Terms:
A) LTC coins are automatically released by the tip robot, the supply of coins is limited and available only while stocks last.
B) Cloud Hashrate Coupons will be issued within 2 working days of the completion of the event.
C) Bitdeer reserves the right of final interpretation of this event.
Please feel free to contact our support team [email protected] if you have any questions.
Bitdeer Team
29/10/2021