Dear Bitdeer Users:
Bitdeer will upgrade its VIP services on May 7, 2019 (GMT+8) to benefit our users. According to the upgraded VIP rules, all users who have paid cumulative computing power fees of $5,000 or more are qualified as Bitdeer VIP users, and the VIP level rises with the user's total computing power purchases. Details regarding the VIP levels and their corresponding benefits are as follows:
VIP Levels and Benefits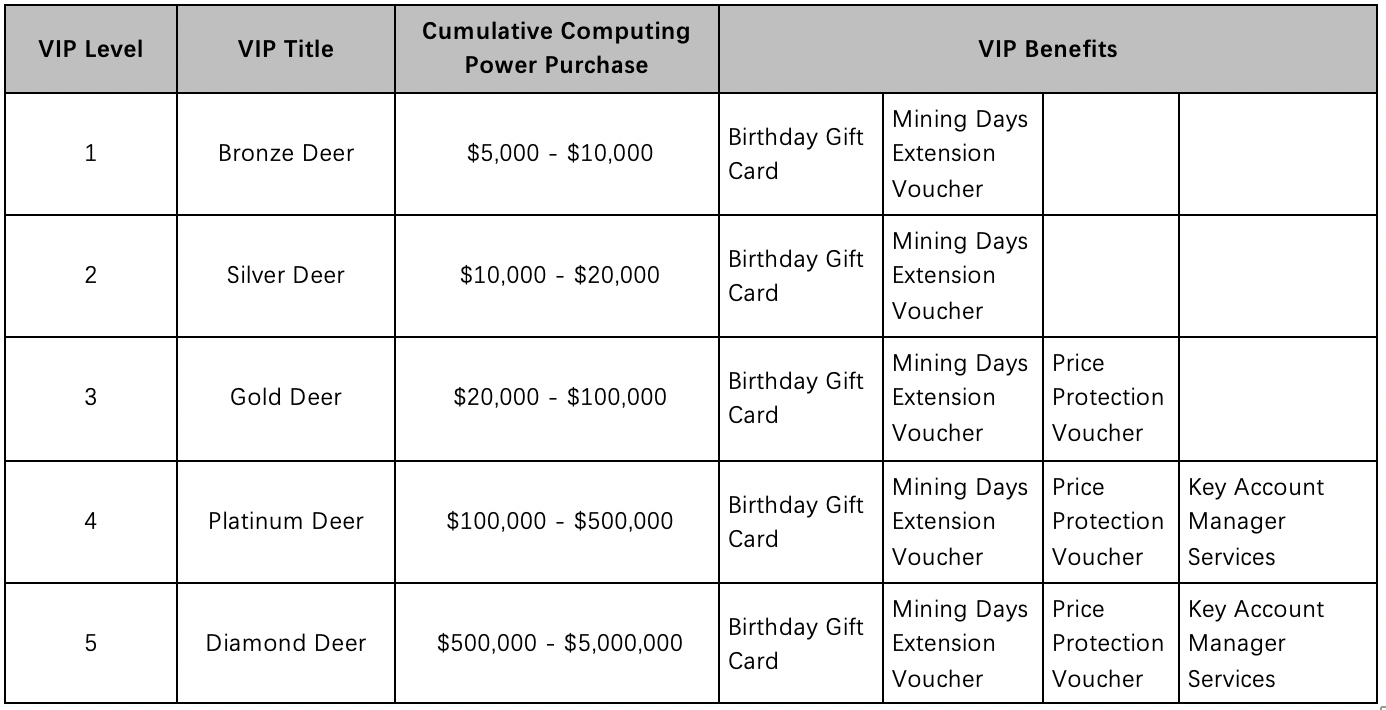 Description of benefits:
1. Birthday Gift Card: Each VIP user can get a birthday gift card (worth RMB 200) during the month of the VIP user's birthday by providing Bitdeer Customer Service with valid information of their birth date.
2. Mining Days Extension Voucher: Will be automatically issued to VIP users' accounts by the tenth day of each month.
3. Price Protection Voucher: If the user price should fall within the 7 day insured period (activity not included), Gold Deer VIP users and above will receive an exclusive discount coupon in compensation.
4. Key Account Manager Services: A Bitdeer Key Account Manager will contact Platinum and Diamond VIP users to provide them with dedicated consulting services.
The above Bitdeer VIP rules will apply to this upgrade and Bitdeer may make further adjustments based on actual conditions in the future.
Bitdeer is a platform providing computing power sharing services for users around the world. It saves users from the hassle of purchasing, installing, and hosting mining machines. Users can place an order and start mining with just one click.
Official Website: https://www.bitdeer.com/cloud-mining/zh
Twitter: https://twitter.com/BitDeerOfficial
Facebook: https://www.facebook.com/BitDeerplatform
WeChat: BitdeerGroup
Official Account: BitDeerofficial
Bitdeer